In today's highly competitive and fast-paced business world, there's no question that having the right talent is critical to your organization's success. At Tullis Search Group, we understand how important this is and our approach is designed to help you find the best candidate as quickly and seamlessly as possible.
We offer all the qualifications you'd expect from your search firm, operating at the highest level of professionalism while eliminating the pain points traditionally associated with the recruiting process.
NO GUESSWORK: We take the time to learn about your business, culture and management style from the start, so there's no guessing down the road. We want to know what makes you tick so we can find the best person to enhance your team and grow your business.
DETAILED DISCOVERY: We listen to your job requirements and present those requirements accurately, every time. We provide you with a carefully vetted short-list of candidates who specifically meet your needs, so you won't waste time interviewing people who just don't fit the bill.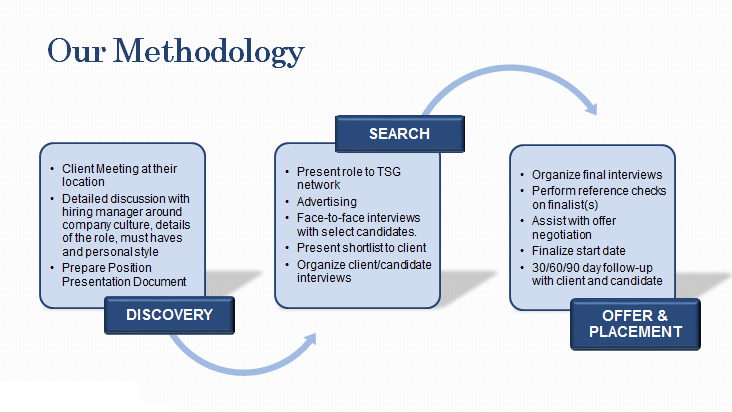 CANDIDATE EVALUATION: We're proud of the caliber of our candidates. We invest the time in getting to know the skills and personality of the people we represent, through face-to-face or video interviews. This means that we can do an exceptional job of finding great matches for your organization.
FOLLOW-UP: Communication throughout the process is key. This sounds simple, but in this industry, it sadly isn't. We conduct weekly progress calls with clients and proactively keep our candidates in the loop on their status, so everyone understands exactly where things stand at all times. We're reachable whenever you need us, 24/7, because we know that business happens at all hours.
LONG-TERM RELATIONSHIPS: Your satisfaction is our measure of success, so all our placements are 100% guaranteed. We have built our reputation by focusing on building respectful and mutually beneficial partnerships that last for years.
MARKETS COVERED: We have extensive experience successfully placing candidates in a range of industries that includes, but is not limited to:
All of the recruiters at Tullis Search Group, including President, Chris Tullis, have hands-on and/or recruiting experience in these industries. This gives us a rich understanding of the nuances and cultural variances that make your business unique, which helps us find you the ideal candidate. With a network of like-minded professionals across the country, we can access top personnel literally anywhere your company needs talent.
We look forward to working with you and showing you how our remastered recruiting approach delivers exceptional results. Contact us today to get started.